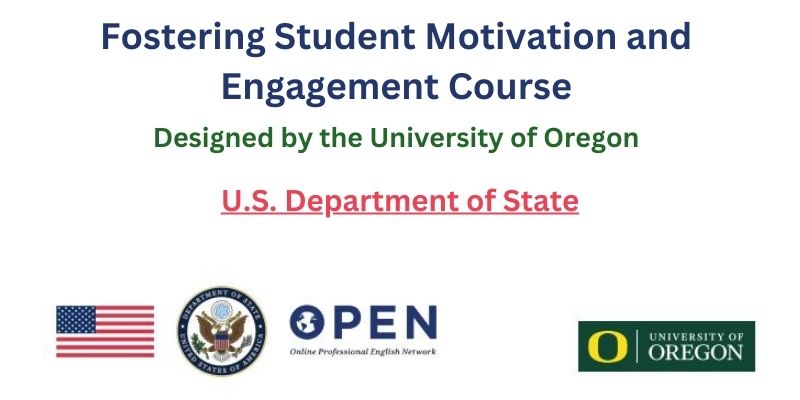 Fostering Student Motivation and Engagement Course – US Embassy
Course Description
Fostering Student Motivation and Engagement (FSME) is an online course for English language educators who want to improve their teaching practices and increase their students' level of motivation and engagement in learning English. In this course, you will learn about key concepts related to motivation and engagement, think about how to build classroom community and meet the needs of all your students, consider how assessment can strengthen motivation, lean about project-based instruction, and collect games and other practical ideas for classroom engagement. Throughout the course, you will have an opportunity to create an Activities Portfolio full of ideas you can apply in your teaching.
Learning Objectives
Course participants will increase their understanding of concepts and actions that can help foster student motivation and engagement in the ELT classroom. Through participation in the course, you will be able to:
Reflect on factors that affect student motivation and identify goals for improvement.
Survey students to learn more about their needs, goals, and preferences, and apply information from the survey to your instruction.
Use formative assessment to help students build confidence and take more responsibility for their own learning.
Plan a project that can help students engage with the English language in collaborative and meaningful ways.
Wisely select games that will help meet instructional objectives for students of any age and language level.
Expectations and Grading
This course is 5 weeks long, and you will need to complete each weekly module before you can begin the next one. You will have some required activities and some optional activities. The required activities include readings, videos, a quiz, action items, sharing your knowledge, and a brief final reflection each week. They are designed to take 3-5 hours per module. The optional activities include discussions with your international colleagues, and they can take as much time as you like! All course materials are available on the Canvas platform, and also as downloadable PDF packets for participants who want to work offline part of the time. In order to make the most of this opportunity to learn with teachers from all over the world, we recommend that you log in as often as you can throughout the term and participate actively on the discussion boards.
Please practice the "4 Cs" of 21st Century Skills in all parts of the course:
Collaboration – Come to the course with an open mind and ready to learn from and with others.
Communication – Practice respectful intercultural communication, and format your messages for clarity.
Critical Thinking – Ask questions, listen carefully to other opinions, and look for solutions to problems.
Creativity – Use your imagination, try new things, and have fun!
The 5 modules of this course will open one by one. A new module will open each Monday at 12:01 a.m. Eastern Time, USA. Tasks can be completed at any time before the course close date on November 27, 2023 ay 11:59 PM (Eastern Time, USA), but we recommend that you complete one module each week, so you can finish the course on time.
This is a Pass/Fail course. Participants who complete all required activities with a final grade of at least 70% within the time frame of the course will receive a digital badge and certificate.
COURSE SCHEDULE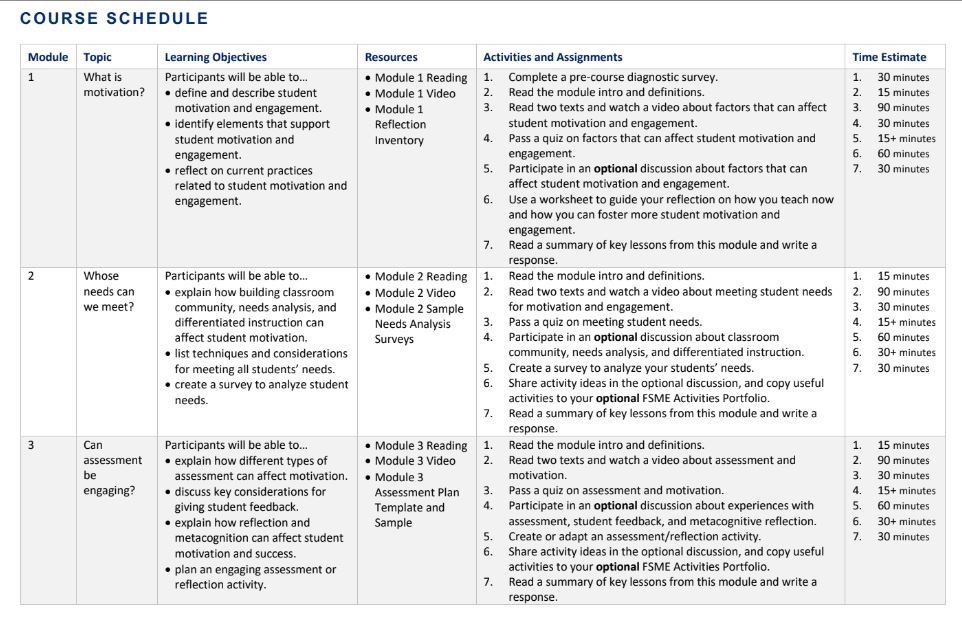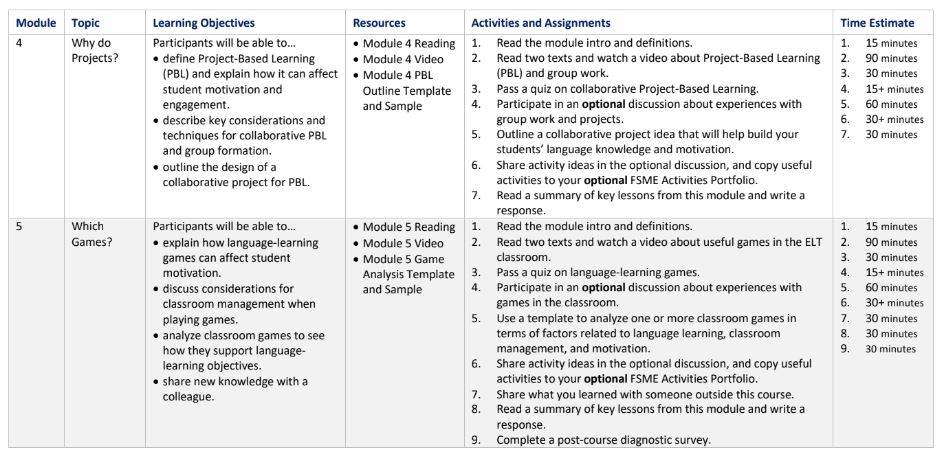 About Canvas Network
Canvas Network is an open space for educators to share, experiment, analyze, and create.
OUR MISSION:
To promote OPENNESS, INNOVATION, and EXPERIMENTATION in education by providing educators access to professional development courses and programs that will help them thrive and succeed in their careers.
To Canvas Network 'open' means:
Open entry and open access. Open entry for learners around the globe and continual access to course content after the course end date.
Open content. Open licensing options and content sharing to Canvas Commons where other instructors reuse, revise, remix, retain, and redistribute content.
Open platform and ecosystem. Open platform to integrate and innovate with third-party tools.
Open data. Open, de-identified Canvas Network data for researchers to analyze and synthesize.
Platform neutrality. Your course. Your goals. Your way. We provide the platform for open innovation and experimentation.
The course of Fundamentals of Accounting Specialization by the University of Illinois
About US Embassy
What does the US Embassy Do?
The primary purpose of an embassy is to assist American citizens who travel to or live in the host country. U.S. Foreign Service Officers also interview citizens of the host country who wish to travel to the United States for business, education, or tourism purposes.
Course: Introduction to Finance and Accounting Specialization by University of Pennsylvania
U.S. Embassy, LondonEmbassy in London, England
The Embassy of the United States of America in London is the diplomatic mission of the United States in the United Kingdom. It is the largest American embassy in Western Europe and the focal point for events relating to the United States held in the United Kingdom.
Embassy of the United States, BeijingOffice in Beijing, China
The Embassy of the United States in Beijing is the diplomatic mission of the United States in China. It serves as the administrative office of the United States Ambassador to China. The embassy complex is in Chaoyang District, Beijing.
Other English Courses Offered from US Embassy