Supply Chain Management Course From The Government Of India Ministry Of External Affairs
Overview
This course will help improve your skills and competencies required in managing supply chain management the objectives of the course are given in the course content file.
Enroll in TESOL Methodology Course – US Embassy
PROPOSAL
FOR
SUPPLY CHAIN MANAGEMENT
under
e-INTERNATIONAL PUBLIC HEALTH MANAGEMENT DEVELOPMENT PROGRAM ONLINE COURSE
Preamble/justification
Material Resources are the hardware of any successful organization or a program. It is the management of the flow of goods and services and includes all processes that transform raw materials into final products. It involves the active streamlining of an organization's supply-side activities to maximize customer value and gain a competitive advantage in the marketplace. Effective supply chain management ensures that the right material of the right quality and quantity is available at the right place, at right time, and purchased at the right price. This course will empower participants on basic concepts of material planning, procurement and purchase procedures, inventory management, and condemnation of obsolete/unserviceable equipment.
Free Online Courses From The University Of Maryland
Goals and Objective
Goal
The main goal of this course is to help you improve your skills and competencies required in managing the supply chain in an organization
Objectives
1. To build the capacity of public health professionals with the principles of material management
2. To illustrate with relevant context-specific case studies, how the supply chain can improve the overall competitiveness within and outside the organizations.
3. To equip participants with various strategies and techniques for effective supply chain management.
Enroll in: WHO Courses With Free Certificates
Core Faculty for the Course
| | | | |
| --- | --- | --- | --- |
| S. No. | Faculty | Designation | Institute |
| 1. | Dr. Pankaj Arora | Associate Professor | PGIMER |
| 2. | Dr. Manjushri Sharma | Assistant Professor | Panjab University |
| 3. | Dr. S K Chadha | Ex Director UBS | Panjab University |
Other Course faculty
The course faculty shall be eminent healthcare management professionals and experts from various public and private healthcare organizations, healthcare program leaders from national and international agencies, faculty from "Centres of Excellence" in the healthcare and management sector, and grass-root community health senior program managers involved in innovative healthcare initiatives.
See: Free Online Courses From The University Of Hong Kong
Course duration
The total duration of the course is 1 week (17/ October/2022- 21/ October/ 22)
Course Curriculum and schedule
The course mainly focused on the areas of Material Management
Course schedule:
The Course schedule will be covered in total 5 days
Day 1- 4: Live / recorded lecture followed by assignment and discussion
Day 5: Action plan preparation and presentation and Live interaction with the course faculty
Free Online Courses From The University Of Cambridge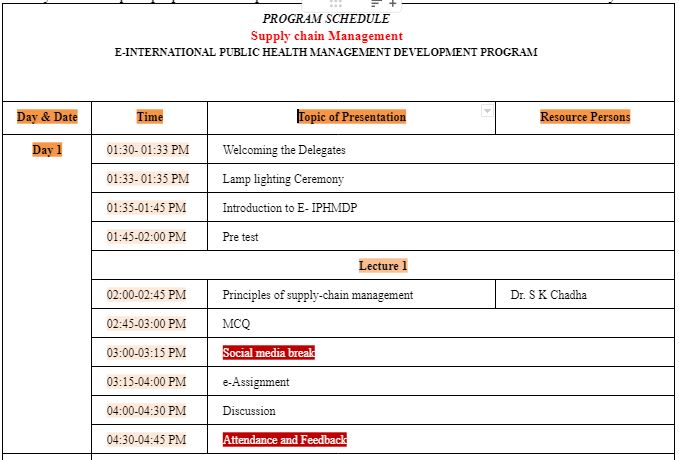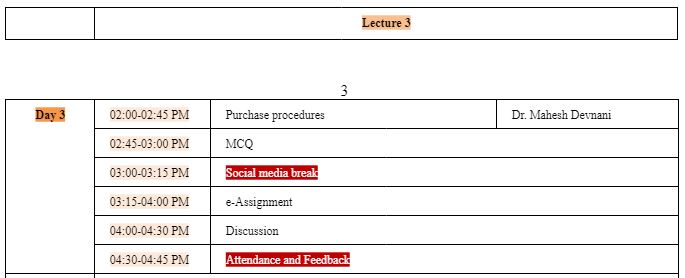 Course Teaching & Delivery Methodology
The course will be hosted and delivered online by Department of Community Medicine & School of Public Health, PGIMER.
⚫ Live sessions and discussion
⚫ Teaching Methodology: Multi-pronged adult learning pedagogy, video lectures, reading material, Quiz
⚫ IPHMDP contest
Enroll for: Free Online Courses From Amazon
Registration
It will be done online through the google link provided.
Course Outcome
The benefit to the Participants
1. Develop supply chain management skills and competency
2. Learn the application of Inventory control management techniques for successfully managing projects.
3. Enhance the performance of the organization through an in-depth understanding of procurement and purchase procedures.
Enroll in: Online Courses From Huawei With Free Certificates
Benefits to Organization
1. Improved managerial capabilities for dealing with material management challenges in an organization.
2. Overall increased performance and productivity of organizations in attaining the top-ranked position.
Enroll for: Free Online Courses From Hamad Bin Khalifa University
Course Certification
A certificate of successful completion of course will be awarded at the end of the course.
Enroll in: Online Courses From Huawei With Free Certificates
About ITEC
The Indian Technical and Economic Cooperation (ITEC) Programme was instituted by a decision of the Indian Cabinet on 15 September 1964 as a bilateral programme of assistance of the Government of India. The decision regarding setting up the ITEC programme was predicated on the underlying belief that "it was necessary to establish relations of mutual concern and inter-dependence based not only on commonly held ideals and aspirations, but also on solid economic foundations. Technical and economic cooperation was considered to be one of the essential functions of an integrated and imaginative foreign policy.
The ITEC Programme is essentially bilateral in nature. However, in recent years, ITEC resources have also been used for cooperation programmes conceived in regional and inter-regional context such as Economic Commission for Africa, Commonwealth Secretariat, UNIDO, Group of 77 and G-15. In more recent years, its activities have also been associated with regional and multilateral organizations and cooperation groupings like Association of South East Asian Nations (ASEAN), Bay of Bengal Initiative for Multi-Sectoral Technical and Economic Cooperation (BIMSTEC), Mekong-Ganga Cooperation (MGC), African Union (AU), Afro-Asian Rural Development Organization (AARDO), Pan African Parliament, Caribbean Community (CARICOM), World Trade Organization (WTO) and Indian Ocean Rim – Association for Regional Cooperation (IOR-ARC) and India-Africa Forum Summit.
Your chance to enroll in US EMBASSY English Language COURSES
The ITEC Programme, fully funded by the Government of India, has evolved and grown over the years. Under ITEC, 161 countries in Asia, Africa, East Europe, Latin America, the Caribbean as well as Pacific and Small Island countries are invited to share in the Indian developmental experience acquired over six decades of India's existence as a free nation. As a result of different activities under this programme, there is now a visible and growing awareness among other countries about the competence of India as a provider of technical know-how and expertise as well as training opportunities, consultancy services and feasibility studies. These programmes have generated immense goodwill and substantive cooperation among the developing countries.
Deadline: 17-Jun-2022
for more courses visit: ITEC Courses From The Government Of India Ministry Of External Affairs