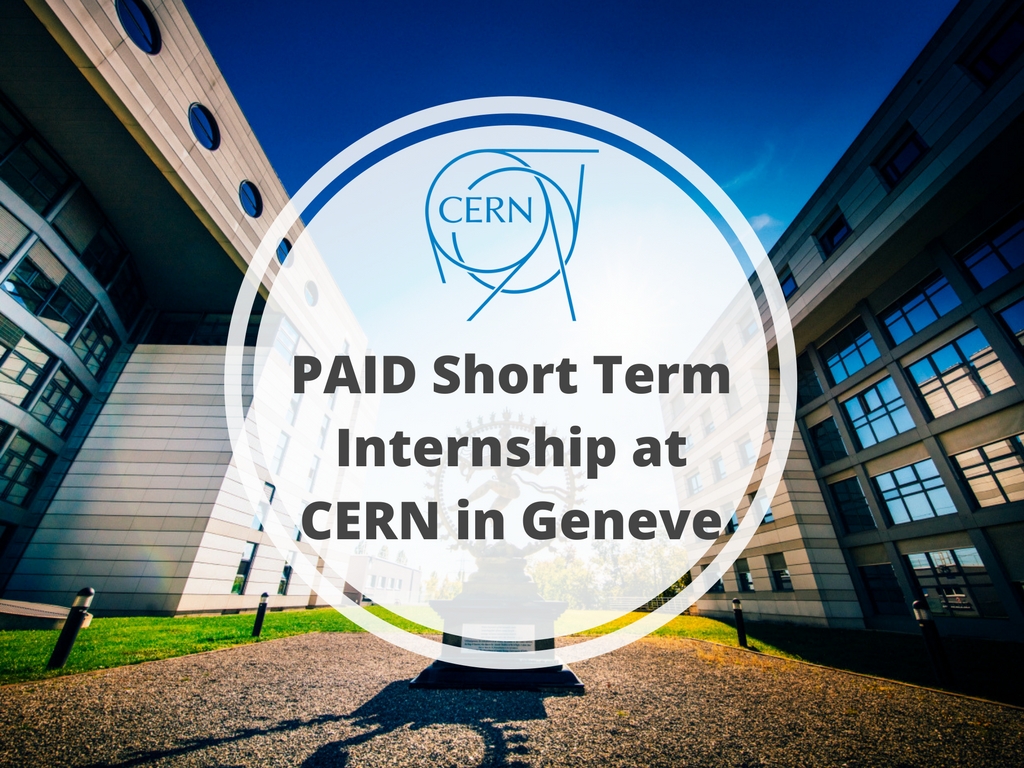 CERN Summer Program for Students in Switzerland | Fully Funded
CERN Summer Program for Students in Switzerland | Fully Funded
About
CERN Summer Student Program is the most popular and exciting program for all students from all over the world with any nationality for undergraduates Bachelors and also for Master's degree students.
At CERN, the European Organization for Nuclear Research, physicists and engineers are probing the fundamental structure of the universe. Using the world's largest and most complex scientific instruments, they study the basic constituents of matter – fundamental particles that are made to collide together at close to the speed of light. The process gives physicists clues about how particles interact, and provides insights into the fundamental laws of nature
Once in a lifetime opportunity.
What is CERN center?
In the CERN Summer Student Program 2021, applications from member and non-member countries are accepted.
All participants from all countries can apply for the fully funded CERN Summer Student Program.
How do you plan to spend the summer? Working this summer with some of the biggest organizations in the world.
Detailed information about the CERN Summer Program for Students in Switzerland is provided below:
There is no application fee charged by CERN.
In fact, it will be a summer unmatched anywhere else on earth.
They welcome participants in a wide range of academic fields.
The duration of the CERN Switzerland summer program is up to three months.
They have physics, engineering, computer science or mathematics fields and projects.
The Student Summer Program is more than just a summer job.
Note: For the CERN Summer Student Program, all nationalities are eligible.
About the CERN Summer Student Program 2021:
Country: Switzerland.
Organization: CERN.
Eligible Countries: All Nationalities.
Duration: 3 months.
Deadline: January 31, 2021.
Introduction:
CERN is a European organization that provides summer and international internships and student exchange program opportunities for 8 to 13 weeks.
Are you currently studying for a Bachelor's or Master's degree? Are you looking for practical training? If so, this could be an opportunity for you.
Fields of the summer student program during 8-13 weeks, you will work on a tech project in a team.
During this unique and exciting Summer Exchange Program, you can attend a series of lectures.
Experts and scholars from all over the world share their knowledge on a wide range of topics:
Physics.
Engineering.
Computer science.
Maths.
Benefits:
Holding an association for up to three months to work on an art project.
Intensive online physics lecture program (You will also be able to attend a series of IT lectures organized by the CERN open lab).
A modest salary (to be determined)
Virtual social events for all participants to create and nurture an online summer 2021 student community.
Online workshops
Eligibility Criteria:
You are a Bachelor's or Master's student (not a Ph.D.) in physics, engineering, computer science or mathematics and you must have completed, by the European summer of 2021, at least three years of full-time study at the undergraduate level.
You will still be registered as a student during your online study time with CERN.
If you expect to graduate during the European Summer 2021 (as of May), you are also eligible to apply.
You have a good knowledge of English (however, IELTS or TOEFL is not required).
DOCUMENTS REQUIRED FOR CERN
You must upload the following documents online in the application form.
Clearly defined (e.g. "CV," "Letter of motivation," "Academic transcript", etc.) in PDF format.
A CV in English and French.
A copy of the last academic record.
Two mandatory reference letters from lecturers and / or previous internships.
How to apply:
You need to apply online.
Complete the application form and upload the required documents.
To apply, please visit the official website of the CERN Summer Program.